Grieving and making whole
by Jethro Heiko
This post is from our archive, I wrote it back in May of 2011. 
Many different experiences of loss
July 10, 1993, November 3, 2004, September 11, 2001, and March 11, 2011. These are some of the days that I've experienced loss. The losses themselves — the death of my father, Kerry's election concession, the attack on the Twin Towers, the Japanese earthquake/tsunami/nuclear disaster — impacted other people at different scales, in different geographies, and in many different ways. I had very different grieving processes for each, but each successive experience of loss has been informed by previous experiences. Rituals have been created and memorials, both physical and internal, have been erected. And while I've moved past each of these losses, the process of grief is unending. I have not searched for closure, nor do I wish to. Instead, I am engaged in an ongoing process of making myself and others whole. 
How an understanding of grief informs our work
After losing my father to cancer in 1993, I did a lot of reading and research on the topic of grief. Much of this was internal exploration of my acute grief over a period of many months. After taking some time off from college I returned and laid the groundwork for a new organization called Reflect, the 5 College Bereavement Support Program which I ran for 2 years while continuing to be a student at UMass Amherst. The purpose of Reflect was to work with allies to provide support to other young people coping with the serious illness or death of a loved one. The larger mission was to improve how the larger community and its institutions understand and provide support for people in grief.
Learning about community grief
Upon graduating I transitioned the organization to another student leader and began working as a community organizer in Boston. What I learned over my seven years of experience at my first organizing job is that everyone experiences loss. It could be a loved one that just passed away or a loss of a relationship or job, a loss of your home when rent control ends, a loss of your sense of security when you are a victim of a crime, or a political loss. Losses were all around me and so to was the complex and layered grieving process. I became more and more interested in how losses were experienced by organizations, communities, and societies. I was surprised to find that other people were interested in talking with me about how loss and grief relates to changing the world. I found that many of the people and organizations I respected most were survivors of specific loses that informed their passion, changed their perspective, and kept them focused. 
Creating a space for grief
In early fall 2004, before the Action Mill officially began, but well into my partnering with Nick Jehlen on various projects, we began to plan for the possibility that John Kerry might lose the election to George W. Bush. I had invested a great deal of volunteer time in helping the Kerry campaign by organizing a Get Out the Vote effort where I live in Philadelphia. At the same time Nick and I developed an action, Turn Your Back on Bush, which we were prepared to launch in the event that Kerry lost, or if the election was stolen. The action was public theatre, quiet confrontation and grieving ritual wrapped into a cohesive whole. We designed the action as a vehicle and platform for a variety of grieving constituencies, including veterans, labor unions, teachers, anti-war organizations and many others. And to make it scalable, we used lessons from game design to create a platform with clear ways to engage and space for each person's perspective to be shared. 
Sustenance and grief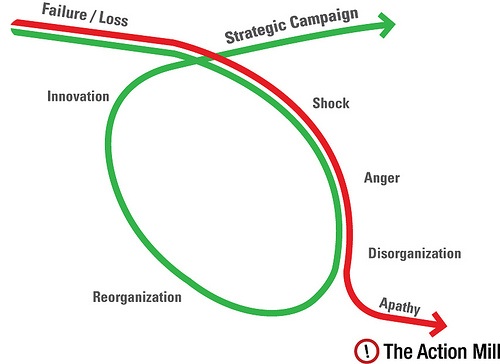 More recently we designed a soon to be launched project to strengthen the impact of ramen chefs in Japan who are contributing to the spiritual and economic recovery of their country through what they do best: making ramen. Our goal in this project is to provide a clear and simple way for people outside Japan to support people in Japan who are working to help their neighbors who were impacted by the earthquake and tsunami. We see the importance of both the material support and spiritual connection in this project, because these are closely linked, especially in times of community-wide grief.

Throughout our specific projects and in our day to day work we are exploring issues of loss, grief, and legacy. We see it emerge, often quietly, in almost every interaction. And it informs our approach to our own business, to our survival and to the meaning we strive to create in everything we do. The grieving process, from our personal experiences to ones shared with communities, gives us important insights and possible directions to explore as we navigate through an increasingly complex world. In 2009 we designed a conceptual tool to help us share some of the concepts with our clients. Adapted from the "grief wheel" I became familiar with while running Reflect, this tool has been a great resource to ground conversations about loss that leaders we are working with face. Over time we hope to develop more tools and objects to help people we work with understand and move through grief.