Grace is overcoming
by Nick Jehlen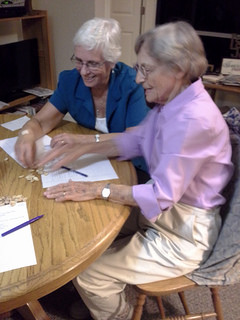 When I played an early version of My Gift of Grace last summer with my Great Aunt Lib* (one of my favorite people on the planet), she asked why we chose to use the word "grace" in the name. I didn't have a great answer – just that the word came up a lot in our discussions about what kind of lives we'd like to live – but Lib's question got me thinking: what is grace, really? What does it mean to our everyday lives?
I asked her for her definition, and Lib's answer surprised me: 'grace is an overcoming, a perseverance in the face of obstacles.' This doesn't quite match up with the dictionary definitions, which usually involve love, kindness and respect toward others. But Aunt Lib's definition filled in a gap in my understanding.
Grace, to me, isn't just the expression of love toward someone else, it's the overcoming of obstacles in order to love someone. Life with other people is filled with misunderstandings, disagreements and stress. Managing that tension is difficult, and it often feels easier to avoid talking about scary or uncomfortable topics with people we care about.
The conversations that come up while playing My Gift of Grace often surface difficult issues or points of disagreement that wouldn't otherwise see the light of day until a big decision has to be made. And that's the idea: learning to handle each other with grace means dealing with the difficult conversations today and learning how to move through them, together.
On some level, grace is just being present for each other. But while that idea might be simple, achieving it is rarely easy. Like anything worth learning, it takes practice.
Much of the pain we encounter at the end of our lives is about tension between family and friends in the middle of what are usually very stressful circumstances. Being present for someone else means quieting yourself, listening, and acting without judgement. So I lean on Aunt Lib's definition and try to practice perseverance along with kindness. I believe it's a fuller definition of grace, and a challenge that I can try, fail, and try again to live up to again each day.
*Lib wrote question number six for My Gift of Grace: "What activities make you lose track of time?" This photo is of my mom and Aunt Lib playing My Gift of Grace in December, using pistachios as Thank You Chips.